(0 customer review)
Around the World in Eighty Days (Puffin Classics)
Publisher:

Puffin Books

292 Page / Published

2016-10-11

Category:

Children's , 9 to 12

ISBN:

9780141366296

Language:

English

Format:

PB

CD/DVD:
Author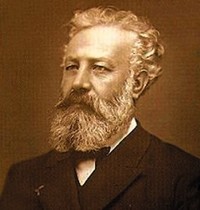 Jules Verne
Jules Gabriel Verne was born on February 8, 1828, in Nantes, France, a busy maritime port city. He was a French author who pioneered the genre of science-fiction. He is best known....
Read More
Shocking his stodgy colleagues at the exclusive Reform Club, enigmatic Englishman Phileas Fogg wagers his fortune, undertaking an extraordinary and daring enterprise: to circumnavigate the globe in eighty days. With his French valet Passepartout in tow, Verne's hero traverses the far reaches of the earth, all the while tracked by the intrepid Detective Fix, a bounty hunter certain he is on the trail of a notorious bank robber. Set from the text of George M. Towle's original 1873 translation, this Modern Library Paperback Classic of Verne's adventure novel comes vividly alive, brilliantly reflecting on time, space, and one man's struggle to reach beyond the bounds of both science and society.